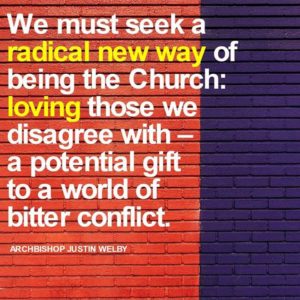 "We pursue the things which make for peace and the building up of one another." -Romans 14:19
Our world needs you!
You are God's front line against the hate that spreads. You, who have chosen Jesus, you are likewise chosen by Jesus, and sent into hostile territory. The hostile territory I'm talking about, is the moment you connect with someone else. It's dangerous! Those other people: they don't think like you do. They don't believe like you do. They don't have the same ideas, the same opinions, the same values. They don't agree with you. And we are really struggling with how to get along with others who don't agree.
Our reality is that we live in a divided and antagonistic society. Rather than trying to get along, we defiantly entrench in our stance. We vilify those who think differently. We place people who behave differently on a lower level of value. Our mind frames people with different views of the world as stupid, idiots, morons. We feel justified in insulting them, belittling them, wishing curses on them. And when we find people are wrong, we tear into them without mercy. Just follow any social media thread for more than three responses…there it is. This is the landscape of our society. And it is erupting into physical violence. Anger, hatred, pain, are spreading. And the drive beneath all of this is fear. Our society is wracked by a godless fear.
Read more…