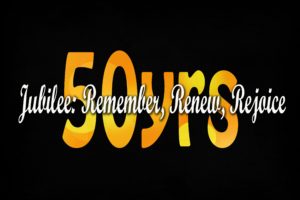 "Consecrate the fiftieth year and proclaim liberty throughout the land to all its inhabitants. It shall be a jubilee for you…for it is a jubilee and is to be holy for you." -Leviticus 25:10-12
On December 10, it will be 50 years (to the day!) of our church's 50th anniversary! We have big festivities planned. All of our church family and friends, present and past, are invited to come and mark this special day!
We will be having a pot luck after worship, and are asking that people make salads and main dishes from our church cookbooks, which recipes can be found here:
Our schedule that day:
9:00 a.m. Continental Breakfast
10:00 a.m. Worship
11:30 a.m. Banquet
12:00 Noon Anniversary Celebration
1:00 p.m. Dessert and open fellowship
In honor of our 50th Anniversary, we have invited pastors who have served our church, or who have been launched into ministry from our church, to come back and preach a message in one of the Sundays leading up to the anniversary.
Already preached:
June 25 Rev. Peter Milloy (retired status)
July 23 Rev. Dr. Peter Law (served
Oct. 22 Scott Van Daalen (Director of Youth and Media fall 2016 – spring 2017)
Upcoming Guest Preachers:
Sun., Nov. 5: Rev. Dr. Jack Shields (Pastor 2000-2009)
Sun., Nov. 12: Rev. Daniel Hair (Retired pastor 2010-present)
Sun., Nov. 19: Rev. John Mueller Noel (Pastor 1993-2000)
Sun., Nov. 26: Pastor Melissa Deuel (LLP from FHUMC)
Sun., Dec. 3: Rev. Bob Ford (Pastor 1972-1977)
Sun., Dec. 10: Rev. Cindy Gregerson (MAC Director of Ministries)
Also, each Sunday until the anniversary, we will hear videos of people of our church sharing what they see is the purpose and legacy of our church. If you miss one, you can watch it on line here:
To celebrate our anniversary "Forest Hills-style" (which means we reach out and show the love of Jesus in tangible ways in our community) we set the radical goal of collecting 50 each of 50 different dry goods for the Community Helping Hand Food Shelf in town. Thermometers marked the progress for each item across the front of the sanctuary. Well, WE DID IT! In fact, we presented over 2600 dry good items to Community Helping Hands on Monday, December 4th! The video below shows the totals, and the packing and delivering of the items.
50/50 Challenge – We Did It! Video
Click below to see the Newspaper article regarding our food drive.