Forest Hills Youth Group meets Wednesday nights from 6:15 pm to 7:30 pm, right after our shared meal. It's a great time of games, lessons and small group discussions. This year we are focusing on the importance of our faith stories and the need to share them with our friends. Each month we will also get together for a service project or just for a fun time together as a group.
Schedule:
Mar 6th Starts Lent with Ash Wednesday
Mar 13th – "Giving Up & Taking Up" helps students discover what Lent is, why people observe it, and how they can incorporate it into their lives. The message looks at the definition and history of Lent and helps students understand the real meaning of it. Then it offers practical ways to observe Lent by giving up or taking up certain things in our lives.
Mar 20th – "Questions for an Incredible Journey" Have you ever experienced a point in your life where you just wanted something different and you weren't exactly sure what different should look like? Instead of asking the right questions about our lives, we often drown out the whispers of God with activity instead of pursing that Fresh Start. This 1-off sermon looks at the story of Palm Sunday—an event described in all four Gospels where Jesus makes a triumphant entry into Jerusalem during the last week of His life—and offers four questions to consider.
Mar 27th – Spring Break No Class
Mar 28th – Bowling at Splitrocks 1-3pm
April 3rd – All Church Game Night
April 10th – "Upside Down Kingdom"

God has a central purpose for His kingdom: to bring Himself glory. The question we have to ask is, what does God's glory for His kingdom have to do with me? We are called to reveal His glory through the way we live. When people look at our lives and the way we live, they should be able to see the glory of Jesus shining through us because we pursue Him, His glory, and His kingdom.
Red Rock is a Bible-based summer camp for all ages. Forest Hills has been partnering with Red Rock for over 30 years. Scholarships are available through Forest Hills starting mid-February.
Sunday through

Saturday

,

June 23 – June 29.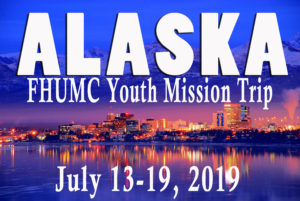 The church will be sending our youth on a mission trip to
Alaska
next summer. The trip will be
July 13-19, 2019
. We will be partnering with Praying Pelican, a mission trip organization out on Minnesota, to help a local church in Anchorage. Our group will be building relationships with local families connecting them to the ministries the church provides. I am excited to see how God uses Forest Hills to further His kingdom in
Alaska
. This trip will truly be life changing for those that go. If you are a teen and interested in going, or if you are an adult and interested in helping fund or chaperone, please contact Cassi Betker
youth@foresthillsumc.net