I hate fishing. I'm not good at it. I don't own the proper gear and even if I did catch something, I would not know what to do with it. Being born and raised in Minnesota, you might think that fishing would be second nature to me as it is for many of us. There is never a lake too far away and anyone you talk to will have a great spot to recommend. I know full well that if I were to put in some hours on the lake and learn some tips from the pros, I might learn to appreciate this pastime and maybe even become proficient at it.
Jesus met some pro fishermen as he was talking to the crowds. At the time, they were busy on shore clean out the weeds and debris from their nets. Jesus asked to use one of their boats. Simon was probably quite annoyed at the request, but he agreed anyway. They pushed out a short distance so Jesus could teach from the boat.
Read more...
---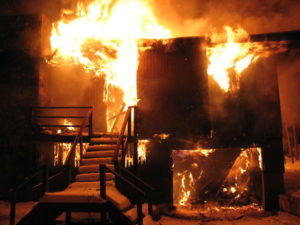 "
If it is burned up, the builder will suffer loss but yet will be saved–even though only as one escaping through the flames." – 1 Corinthians
I read too much in my devotions this morning. My devotional said that I was supposed to read 1 Corinthians 3:9-11. Yet I read too much. I usually try to look at the verses before and after the passage I'm reading in order to get a better understanding of the context of the passage. The fire mentioned in verse 13 caught my attention, and I couldn't help but keep reading to figure out what the point was.
Paul, who was writing to the Christians in Corinth, Greece, in this letter, was talking about how Christians work together to do God's work. In the first verses of this chapter, Paul says that each person does his or her own assigned task in the whole or greater ministry of God (1 Cor. 3:5). Yet it is God who brings the results, lest any of us think that it's our good works (verse 7). Together we are,
Read more...
---