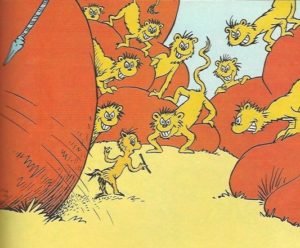 In the less known but fantastic Dr. Seuss book entitled "I Had Trouble in Getting to Solla Sollew", we meet an everyman character who is inundated with obstacles and set-backs on his way to the city of Solla Sollew, "on the banks of the river Wah-Hoo, where they never have troubles, at least, very few." In his hope to live a trouble-free existence, our friend encounters many episodes, one of which involves him being enlisted in the army of Genghis Kahn Schmitz, where he is commanded to fight the treacherous Poozer. He is provided with nothing but a bean shooter. One Poozer however became many and our poor traveler had no choice but to retreat. He was ill-equipped. He had no prayer. I often feel the same in my own life.
Read more...
---
"Do not get tired of doing good, because in time we'll have a harvest if we don't give up." -Galatians 6:9
Dr. Theodore Seuss Geisel, better known as Dr. Seuss, is one of the most beloved children's authors and illustrators of all time! His popularity continues because his books are not just fun to read or take us to silly, wacky, and imaginary places, but because if you take a second look at the stories, there's a message there for kids of all ages. Some argue that Dr. Seuss is actually quite a theologian and offers God's kids (of all ages) good insight into some of the teachings of the Bible.
There is another story, much lesser known, that also teaches a biblical truth. Yet it's not one that Geisel thought up or wrote; its one he lived. It's the story of how he even became a children's author in the first place.
Did you know that he had a very difficult time evening finding a publisher for his first book? While on a steamboat cruise, the cadence of the engine put a rhythm in his head that made him think in rhymes. So he worked and worked on his first story, both he and his wife pouring over each word, each line, over and over again. As the story emerged, the signature line got stuck in his head, "And to think that I saw it on Mullburry Street!" Can you hear the pulsing boat engine?
Read more...
---