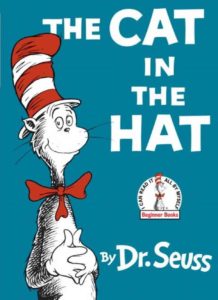 Well, summer is over. The kids are back to school, the days are getting cooler and the sun actually sets at bedtime. Summer is a wonderful time, but there is always a little celebration in my heart when I know my kids will be busy with school. (I am the type of parent who is disappointed when they come home with no homework.) The school year can be a grind and it is busy, but at least my kids are not lounging around my living room like a pack of lions at the zoo. They have a job to do now. They have some responsibilities to meet. I have found that if we hold kids accountable, they will rise to meet the expectation. Summer is great, but all the free time can lend itself to boredom.
Boredom is where the classic "Cat in the Hat" begins. We meet two kids out of luck on a rainy day. They have toys aplenty but seem to lack the imagination to employ them. In waltzes the cat, who brings with him "good fun that is funny". He has all kinds of great games in mind and he even invites a couple of friends over to share in the revelry. (If you have to keep your friends in a large box, you might want to expand your social purview.)
The cat claims to bring fun, but the children he is supposedly helping experience nothing but anxiety and stress. They have been given certain rules, parameters to live by: "Keep your room clean.
Read more...
---
Do you remember what it was like to have an imagination? Some days you were a dog who barked to communicate, others a ninja warrior fighting off bad guys. Unpopped kernels became pirate's gold and every rock in the driveway was a beautiful gem. Our imaginations are a gift from God. We were made in his image, and so we were made to create.
As adults, we still employ our imaginations, but in a different way. Maybe we cook up a fun dinner for the family, make up a scary story around the camp fire or come up with better methods for keeping critters out of the garden. As we grow, we learn to read and write and are able to transform
Read more...
---