It's the cry of our culture. Nobody wants anybody else telling them what to do or how to live. Accountability is only for those who crunch numbers and defending one's own rights is the only pastime worth pursuing. It makes sense. We are humans. We are rebels with our own causes. We want to be in charge of ourselves, but if we are honest, we wouldn't mind being in charge of a few other people for good measure.
Power is a corrosive thing. It seems to go straight to our heads. Like any child still developing character, we will do what we want if we can get away with it. As we continue to follow David through his very eventful life, we come to a point in the story where David has very little power. Sure, he has some men who are faithful to defending his life, but David has been living in and out of various caves for years now. He is on the run and being hunted down by the formidable King Saul. Finally the two enemies meet, but in rather unusual circumstances. While David hides in the far reaches of a black cave, Saul deems the same cave fit for none other than an outhouse. He enters and proceeds to do his business. Suddenly, David is given power. He has the ability to slay his pursuer in, frankly, a rather
Read more...
---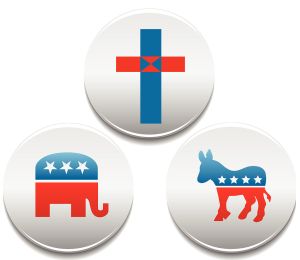 This week the throws of the Democratic National Convention dominate the news. Last week it was the Republican National Convention. All eyes seem focused on the Hillary and Trump machines. Or are they?
Fed up!
I've noticed that although the media is obsessed with the presidential race, much of America is not. More times than I've heard someone say that they've decided to vote for one front runner or the other, I hear people say that they have no one to vote for. Lots of people are looking at the front runners and deciding to "check out" of the presidential race.
Part of this, of course, is the standard "fed-upness" we all gripe about our politicians. It's just the standard conversation to say whomever is currently running for office is a poor candidate, just as standard as it is to complain about the weather or the local professional sports team. It's in our nature to find what is negative and focus on that. It's what we do.
The Christian Alternative
To me, however, this is not what Christians ought to do. The Bible says, "Do not let any unwholesome talk come out of your mouths, but only what is helpful for building others up according to their needs, that it may benefit those who listen." (Ephesians
Read more...
---