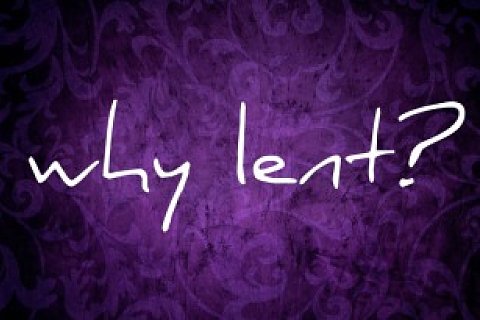 The season of Lent started this past Wednesday with Ash Wednesday. If you're like me, you may not have grown up practicing Lent, and you might not be too familiar with it. Maybe you've heard of it, but you don't really know all the ins and outs and why people observe the practice of Lent.
In general, most people think about two things when they think about Lent:
seeing people on Ash Wednesday with a smudge on their forehead
a season where you "give something up"
The textbook definition of Lent: Lent /lent/ noun
the period preceding Easter that in the Christian Church is devoted to fasting, abstinence, and penitence in commemoration of Christ's fasting in the wilderness. In the Western Church it runs from Ash Wednesday to Holy Saturday and so includes forty weekdays
Lent is not a new idea. In 325 AD, a bunch of Christian leaders got together at something called the Council of Nicaea. During that meeting they established a lot of things, including the way the Bible is set up, and establishing Easter as its own Christian holiday. They also discussed a 40-day season of fasting called Lent. This shows Lent is something that has been around for a very long time. What started a long time ago was really strict rules about fasting and prayer that were designed to help Christians repent of their sins and remove things from their lives that distracted them from Jesus. In today's times, we tend to think of Lent as a time where we "give something up." When I was younger most of what I knew about Lent was my friends couldn't eat candy, pop, or watch TV (depending on their family). I never really connected it with the true purpose of giving up something to focus more on Christ. But Lent did not just get thrown in before Easter for no reason. It was placed there on purpose because Lent is a time of preparation for Easter. It prepares us for Easter by reminding us of how much we need Jesus.
Read more...
---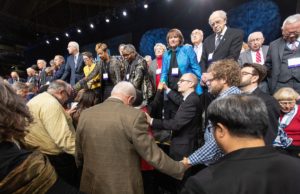 The special General Conference session of the global United Methodist Church met this past weekend from Friday evening through Tuesday. This special session called delegates from all over the world to St. Louis, MO, as the United Methodist Church's top governing body to find a way forward together on the complexities of human sexuality. The General Conference body defeated all proposals to change the current stance of the United Methodist Church as outlined in the official
United Methodist Book of Discipline
. The United Methodist Church will continue its official position that "homosexuality is incompatible with Christian teaching," and forbid UM clergy from being in or performing same sex unions. This decision is difficult for many United Methodists, and we all seek God's healing and wholeness-making as we pray for God's Spirit to keep us united in the midst of different views and understandings. The United Methodist Church's still boldly proclaims that all people, regardless of gender or sexual orientation, are people of sacred worth and beloved children of God. You may access more information at
www.umc.org/gc2019
. Additionally, you may see the Bishop's response at
https://vimeo.com/320066203
.
---