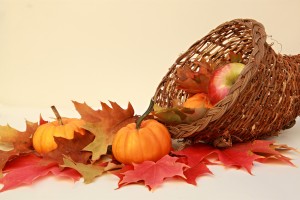 "And whatever you do, whether in word or deed, do it all in the name of the Lord Jesus, giving thanks to God the Father through him." -Colossians 3:17
The Thanksgiving holiday was set late in the autumn in honor of when the Pilgrims celebrated the first Thanksgiving. By coincidence, then, it falls right before the preparations for Christmas. Or perhaps it is no coincidence.
Normally we think of Thanksgiving as a time when we stop to appreciate the harvest–that has grown all season long but now as harvested–we are blessed to enjoy. We also expand Thanksgiving as a time to stop and take a look at our lives and intentionally give God thanks for all the blessings He has given us throughout the year. In both senses, Thanksgiving is a time of looking back and being appreciative.
Read more...
---