"But when you pray, go to your room, shut the door, and pray to your Father who is present in that secret place. Your Father who sees what you do in secret will reward you." Matthew 6:6
Last week I went to see the movie, The War Room. Provident Films released this next film from the Kendrick brothers, makers of Fireproof and Courageous. As before it tackles real life issues we are all struggling with, offers biblical principles to apply to our lives, and shows them modeled in a personal setting. This movie, in my opinion, is far better in its acting, script, and cinematography. Go see the movie! https://www.youtube.com/watch?v=mIl-XY9t_Lw
Without giving too much away, it's about a wife and husband who think they're Christians, but who still try to live their lives their own way. Their marriage struggles, as well as their family and the rest of their lives. But an elderly prayer warrior teaches the wife how to fight using prayer.
Read more...
---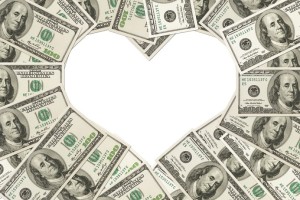 Money is the root of all evil, right? Well, actually it is the love of money that is the root of all kinds of evil (1 Tim. 6:10). But when we live in the midst of such a consumeristic culture, how can we help but fall in love with the green?
This mindset does not just develop over time…our kids are targets for just as many ad campaigns as anyone else. They are having their thoughts about money formed just as soon as their eyes clear up in the hospital and they overhear mom and dad's surprised remarks at the amount of the bill.
Read more...
---