You are gifted!
That's right! You have special giftings that God has placed within you.
Ephesians 4:7 "But grace was given to each one of us according to the measure of Christ's gift."
The Bible calls these "the gifts of the Spirit." They are abilities, talents, passions, propensities, that the Holy Spirit works (gifts) into you, and that the Holy Spirit, in turn, works out through you. Jesus said that He gives the Holy Spirit into each person who follows Him. Our United Methodist heritage urges followers of Jesus to live out their faith in their daily life, or, as John Wesley put it, in "holiness of heart and life." It is through your spiritual giftings that God uses you in your normal, daily life as God's witness and impact and make a difference in others.
1 Corinthians 12:7 "To each is given the manifestation of the Spirit for the common good."
Read more...
---
Summertime in Minnesota can seem like a fleeting memory. It is a window that might very well slam shut before you can get your fingers clear. Summer is a crazy time. We still have the normal list of tasks to accomplish except now we also have kids to worry about and by this time they are getting bored. Oh, and then there is that garden to worry about. When is the last time it was weeded? Should we add some fertilizer? What kind? What did we even plant in there anyway?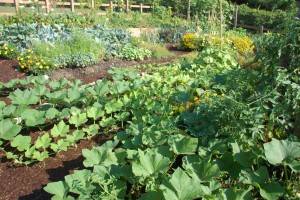 At our house, thankfully, we are not dependant upon our garden for food. But, thanks to my wife, our garden is doing fairly well. A healthy garden, however, means more work. More upkeep, more pruning, more worries. The stakes are higher, the investment is greater. There is more to lose.
Read more...
---