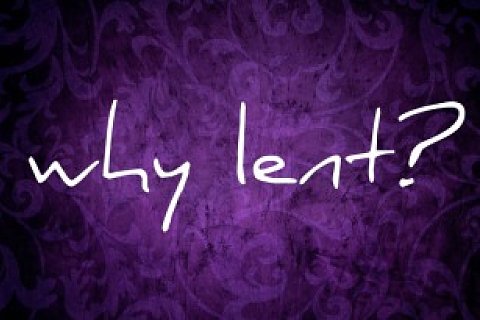 The season of Lent started this past Wednesday with Ash Wednesday. If you're like me, you may not have grown up practicing Lent, and you might not be too familiar with it. Maybe you've heard of it, but you don't really know all the ins and outs and why people observe the practice of Lent.
In general, most people think about two things when they think about Lent:
seeing people on Ash Wednesday with a smudge on their forehead
a season where you "give something up"
The textbook definition of Lent: Lent /lent/ noun
the period preceding Easter that in the Christian Church is devoted to fasting, abstinence, and penitence in commemoration of Christ's fasting in the wilderness. In the Western Church it runs from Ash Wednesday to Holy Saturday and so includes forty weekdays
Lent is not a new idea. In 325 AD, a bunch of Christian leaders got together at something called the Council of Nicaea. During that meeting they established a lot of things, including the way the Bible is set up, and establishing Easter as its own Christian holiday. They also discussed a 40-day season of fasting called Lent. This shows Lent is something that has been around for a very long time. What started a long time ago was really strict rules about fasting and prayer that were designed to help Christians repent of their sins and remove things from their lives that distracted them from Jesus. In today's times, we tend to think of Lent as a time where we "give something up." When I was younger most of what I knew about Lent was my friends couldn't eat candy, pop, or watch TV (depending on their family). I never really connected it with the true purpose of giving up something to focus more on Christ. But Lent did not just get thrown in before Easter for no reason. It was placed there on purpose because Lent is a time of preparation for Easter. It prepares us for Easter by reminding us of how much we need Jesus.
When we pick something to give up for Lent, we use our desire for that thing as a way to remind ourselves we should take a moment to focus on Christ. An example of this would be giving up chocolate. Every time I desire a piece of chocolate, I remind myself that I cannot change my behavior without Christ's help, instead of reaching for the chocolate, I take that time to pray. Recognizing our weaknesses helps us recognize the perfect power and strength of Jesus. Imagine how excited you would be to celebrate Jesus on Easter if you spent the forty days leading up to Easter being reminded of His strength and power compared to your own weakness.
Just because Lent has been around for centuries doesn't mean that it can't be a relevant part of your life. You can take the purpose behind Lent and find ways to practice it that make sense to you.
Cassi B
Director of Youth Ministries