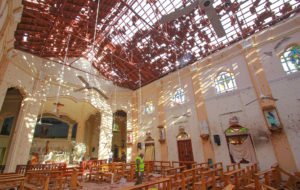 The Reality of Easter This past Easter Sunday was a glorious celebration of new life and victory. We left our churches inspired and re-energized in our faith. Then we turned on the TV or listened to the radio. News of what had occurred in Sri Lanka stunned our sense of joy. Three churches were targeted and nearly three hundred innocent Christians were killed. The coordinated attack involved six suicide bombers. David Curry, CEO of Open Doors USA said that the attacks were "planned on Easter to strike fear in the hearts of Christians."
But you see, the main problem for a terrorist is that Easter and fear do not mix.
Like light in a dark room, the victory of Easter drives out all fear. It is not just a fairy tale that we perpetuate, or some kind of wishful thinking. In the first century a real man was crucified on a real cross and really buried in a tomb. On that first Easter, that same man really rose from the grave as an unadulterated act of divine authority and power!
We will all come to our final day. Some of us will go peacefully in our sleep and some will be ruthlessly slaughtered on the holiest day of the year. Either way, for those in Christ, the day we meet our Maker is a glorious day indeed.
There is no doubt we live in a world filled with evil. It seeks to spread terror and chaos, division and complacency. But this war has already been won. Hope reigns over fear and eternal life destroys death! While we pray for the families of victims, while we send money to provide for needs, we also can rejoice knowing that even amid the fragments of an exploded church, life has won out! This is the reality of Easter. It is the truth that defines who we are. Let us not allow the death of our brothers and sisters to mire us in fear, but let us be animated by their sacrifice to follow Jesus boldly and proclaim loudly, "He is risen indeed! Hallelujah!"