Summer Potlucks!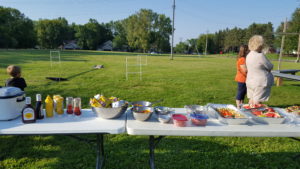 Join us the first Sunday of every month from June through September for a pot luck after worship! Everyone is welcome, and, even if you don't bring anything, we'd love to have you join our table!
The Five Preachers Series June 24-July 16, 2018
M&M Wednesdays
Join us every Wednesday evening at 5:30 pm for a free meal, and an activity after. The evening wraps up by 7:30 pm. Its a great mid-week change of pace!
Join us for our "5 Preachers" series, which begins on June 24th. Each week for 5 weeks, we will have somebody different giving our message! Stay tuned for more details!
M&M goes from September through May