Summer Potlucks!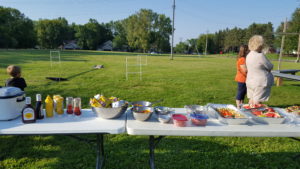 Join us the first Sunday of every month from June through September for a pot luck after worship! Everyone is welcome, and, even if you don't bring anything, we'd love to have you join our table!
Kids' Programming Starts September 12, 2018 at 6:15, following our shared
meal. Everyone is invited!

Wednesday Shared Meals!
Join us every Wednesday evening at 5:30 pm for a free meal, and then join us for ECHO, our new fall programming for kids and adults together!
ECHO is our new discipleship program. Come learn together as we teach our children about living for Christ! Become a mentor, teacher, and guide for your children! If you don't have kids, or your children are grown, you are still a valuable resource for our children! Come help disciple our kids into being disciples for Christ!