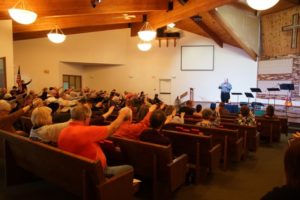 Forest Hills United Methodist Church continues to live out our passion for Jesus and our values of community. Our relationship with Jesus is lived out together as we support, fellowship, learn, and serve with one another, all empowered by the Holy Spirit. We continue as a community where generations mingle and encourage one another to grow in their spiritual journeys.
Our strong biblical grounding has been an important part of our identity since our congregation was founded in 1967 by the Wyoming United Methodist Church. Although the congregation originally met and worshiped in the Forest Lake Masonic Lodge, their desire to be in relationship with the local community led them to seek a permanent home. In 1968 five acres of land was secured, and a "trailer-style" structure was moved onto the property. The little congregation had a big heart for God's people and so began to reach out into the community. In 1970 the two-story part of our current structure was dedicated. Worship was held on the upper level and classrooms were divided on the lower level. The unused portion of the property was developed into a park and field for the wider community to use and enjoy. We are proud to have helped Hosanna Lutheran Church when they began, and again when their church burned, as they met in our building until theirs was ready.
In 1986 the sanctuary portion of the building was added to accommodate the congregation's growth in number and ministry. The congregation started to send yearly ministry teams to Louisiana in 1993 and to the Appalachia Service Project in 1995. Around 1998 the congregation began to host its monthly food distribution and car care ministry. We also opened up space for a Head Start program to be housed on site, and have proudly housed the Youth Performing Arts program since its inception. In 2005 we started to host an annual community festival, which today is a Blue Grass Festival held at Lakeside Park in Forest Lake and is sponsored by area churches. In 2010 we moved our Vacation Bible Camp off site to the Forest Lake VFW so that we could reach kids in the greater Forest Lake area.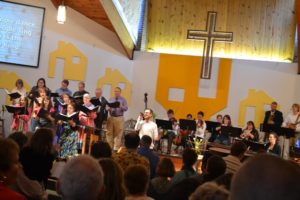 Forest Hills continues to live in the Methodist and Wesleyan way of discipleship, as we grow and serve together in the name of Jesus Christ. Our passion for reaching new generations for Jesus guides our ministries as we continue to build relationships with families, children, and youth. We believe that everyone is a child of God, and everyone is invited to become part of the continuing Forest Hills story!