Jan 22, 2021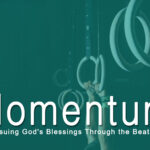 Momentum: Meek
Beatitude #3: Meekness. It's seen as weakness by our culture. Yet Jesus calls it our strength. This Sunday we will fill up on meekness, as we embrace that its surrender and submission requires a strength and power beyond ourselves. Yet we are blessed, for we have the Holy Spirit to grow this godly meekness deep in our hearts, and give us a rich inheritance.
Watch
Notes
Download
Date
Title
Jan 22, 2021

Momentum: Meek

Jan 15, 2021

Momentum (The Beatitudes): Mourn

Jan 3, 2021

Momentum: Climbing the Platform

Dec 24, 2020

One Size Fits All

Dec 23, 2020

Do Good Feel Good Christmas: Kneel Down (Peace)

Dec 17, 2020

Get Real (Love!)

Dec 11, 2020

Reach Out (Faith!)

Dec 4, 2020

Dig Down (Hope!)

Nov 25, 2020

Gear Up (Joy!)

Nov 25, 2020

Gear Up (Joy!)

This Christmas season we're choosing to be a Scrooge! Now, that's not what you may think. Actually, it's a calling to step up and experience Christmas on a whole new level. This Sunday we go to Act 10 to meet a man named Cornelius. He'll show us how we need to gear up for true Christmas by changing what we do each day. If you want true joy this Christmas, this message is for you!

Nov 20, 2020

Pursuing One Holy Passion

Nov 13, 2020

Finding Rest and Restoration

Nov 6, 2020

Trusting in the Darkness

Oct 30, 2020

Learning How to Hate

Oct 15, 2020

Enlarging Your Heart

Oct 11, 2020

Avoiding a Shallow Life

Oct 2, 2020

Messy Love: Decision

Sep 25, 2020

Messy Love: Sacrifice

Sep 20, 2020

Messy Love: Mercy

Sep 11, 2020

Messy Love: Forgiveness

Sep 4, 2020

FAQs: What Is It Like after You Die?