Sep 23, 2022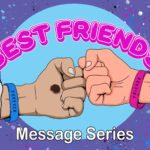 Trust
The bedrock of any relationship is trust. Our friendship with Jesus is no different! We pledge to live with faith in him, but what about the things he has entrusted to us? Join us this Sunday for the finale of our series "Best Friends".
Watch
Notes
Download
Date
Title
Sep 23, 2022

Trust

Sep 15, 2022

Self-Sacrifice

Sep 9, 2022

Secrets

Sep 2, 2022

Disagreement

Aug 25, 2022

Shared Interest

Aug 19, 2022

Support

Aug 12, 2022

Joy

Aug 5, 2022

Best Friends: Loyal

Aug 5, 2022

Best Friends: Loyal

Best friends are expected to be loyal and true. Our view of Jesus is no different. He would
never backstab or malign us. What about our part? Are we loyal on our end? What does it look like to be loyal to a best friend that everyone seems to hate?