The church is a place where we celebrate some of life's most important times together. From baptisms to confirmation, graduation, weddings and funerals; we want to help you prepare a meaningful and memorable experience. Please call the church office at 651-464-5249 or email
office@foresthillsumc.net
for more information about how to plan and schedule your event. Click below to get required forms for your event.
Chuck Knows Church
– Link to short videos that offer funny and helpful explanations of church related topics.
"God is love." -1 John 4:8
"A new command I give you: Love one another. As I have loved you, so you must love one another." -Jesus (John 13:34)
Love. Grow. Serve. These three focus everything that Forest Hills is and does. They are biblical expressions of God's character, and they identify God's people in community.
God is love. In Jesus God perfectly showed His perfect love for all people. By giving the Holy Spirit to live within God's people, we have God's love in us, shaping us, and flowing out through us.
Worship is a form of this love. When we are connected to God in a loving relationship, God takes over our hearts, and we grow in our love for God and for others. It's like we are the spokes of a wheel, and God is the hub. The closer we get to the hub, the closer the spokes come together. Likewise, the closer we grow to one another, the closer we grow to God. (Illustration used by Dorotheus of Gaza in the 6th century) This is how Love (God) works.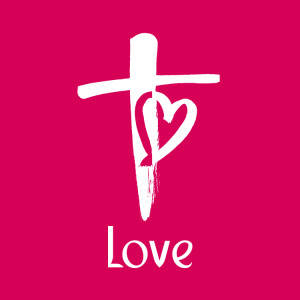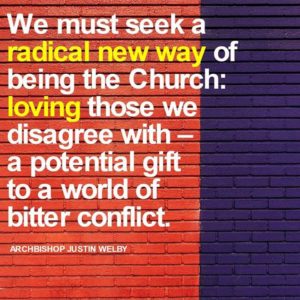 "We pursue the things which make for peace and the building up of one another." -Romans 14:19
Our world needs you!
You are God's front line against the hate that spreads. You, who have chosen Jesus, you are likewise chosen by Jesus, and sent into hostile territory. The hostile territory I'm talking about, is the moment you connect with someone else. It's dangerous! Those other people: they don't think like you do. They don't believe like you do. They don't have the same ideas, the same opinions, the same values. They don't agree with you. And we are really struggling with how to get along with others who don't agree.
Our reality is that we live in a divided and antagonistic society. Rather than trying to get along, we defiantly entrench in our stance. We vilify those who think differently. We place people who behave differently on a lower level of value. Our mind frames people with different views of the world as stupid, idiots, morons. We feel justified in insulting them, belittling them, wishing curses on them. And when we find people are wrong, we tear into them without mercy. Just follow any social media thread for more than three responses…there it is. This is the landscape of our society. And it is erupting into physical violence. Anger, hatred, pain, are spreading. And the drive beneath all of this is fear. Our society is wracked by a godless fear.
Read more...
---
Humans are creative. We like design. We like to express ourselves. We like to make cool things. Just take a stroll around your neighborhood. Notice the way people decorate their lawns. Notice the various uses of colors and shapes. We even try to make our front doors look aesthetically pleasing. Even in a complex of town homes, each tenant has added their own flair somehow. Why do we do this? Why do we feel the need to create?
Personally, when it comes to decorating, I could function just fine in a cinder block room. I have very little desire to "spruce up the place." At the same time, in such an environment, I would spend my time reading books and writing songs and be otherwise engaged in creating and enjoying the creations of others.
I believe this incessant drive to create is a direct reflection of the image of God within us. We are created in the image of our Creator and therefore, we create!
Certainly, God has gifted each of us with some amount of "natural" talent. Some develop these talents and hone their skill to the point where they can make a career for themselves. Others prefer to create as a hobby. Wherever you might fall on this spectrum, it is important to keep one thing in mind: You are called to create.
Read more...
---
"Each of you should use whatever gift you have received to serve others, as faithful stewards of God's grace in its various forms." -1 Peter
Love. Grow. Serve. These three focus everything that Forest Hills is and does. They are biblical expressions of God's character, and they identify God's people in community.
God gives us the Holy Spirit to live within us, changing us from the inside out. The Holy Spirit gives us interests, abilities, and grace, and it is through these that we serve God by serving others. What are the gifts the Holy Spirit has worked into you? We are gifted, you know. God calls us to use our resources (interests, abilities, time, possessions, etc.) to make the world a better place. God calls His people to invest in others.
One of the best ways to show love to someone who is a parent is to help her kids. Same with God. One of the best ways to show love to God is to help God's kids. That's all the other people around you. We are all called to invest into others what God has first invested into us.