Dec 24, 2020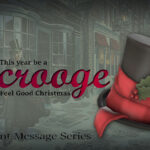 One Size Fits All
We're having a special carol service this Christmas Sunday! So, be sure to gather round and be ready to sing some of your favorite carols. We'll also celebrate Holy Communion, and hear a meditation from Pastor David.
Watch
Notes
Download
Date
Title
Dec 24, 2020

One Size Fits All

Dec 23, 2020

Do Good Feel Good Christmas: Kneel Down (Peace)

Dec 17, 2020

Get Real (Love!)

Dec 11, 2020

Reach Out (Faith!)

Dec 4, 2020

Dig Down (Hope!)

Nov 25, 2020

Gear Up (Joy!)

Nov 25, 2020

Gear Up (Joy!)

This Christmas season we're choosing to be a Scrooge! Now, that's not what you may think. Actually, it's a calling to step up and experience Christmas on a whole new level. This Sunday we go to Act 10 to meet a man named Cornelius. He'll show us how we need to gear up for true Christmas by changing what we do each day. If you want true joy this Christmas, this message is for you!